On the name "Southern Cameroons"
Southern Cameroonians are citizens of the former British Southern Cameroons, currently North-West and South-West Regions of the Republic of Cameroon, sometimes referred to as "Anglophones" or "Ambazonians". The Coalition has decided to use the United Nations recognized appellation: Southern Cameroons or Southern Cameroonians.
A Worsening Armed Conflict
3+ years of escalating Armed Conflict
> 900,000 Internally displaced persons
> 50,000 Registered Refugees
Why Organize an International Conference on the Armed Conflict in Southern Cameroons?
Since the outbreak of conflict in Cameroon prominent leaders such as His Eminence Christian Cardinal Tumi and His Lordship Justice Ayah Paul Abine have called for a conference to bring together all Southern Cameroonians to exchange views and establish a dominant position. The Government of Cameroon has unfortunately prevented the holding of the Anglophone General Conference. As the conflict escalates, it is clear that such a conference uniting Southern Cameroonians cannot take place in Cameroon thus the need to have a conference abroad in a partner country.
The Conference has two main goals:
Engage all segments and professionals of Southern Cameroon origin to establish the majority view on the pathway to a permanent negotiated solution, and
Develop a detailed framework for a robust post-conflict reconstruction.
Working Groups
The Conference has Seven (7) Working Groups. Each Working Group is divided into Sub-Groups made up of technical experts around the world who will work to provide key recommendations in each specific area. Conference delegates will join a particular Working Group based on expertise and experience.
The Conference and Working Groups will like to hear from Southern Cameroonians across the world. Submit a document or contribution to any of the Working Groups.
Sign up to receive updates on The Conference
Latest News
Publications from around the world on the escalating armed conflict
Recent Tweets
CDN joins the rest of the international community in observing June 20th as #WorldRefugeeDay to remember & honor refugees all over the world. The theme of this year's World Refugee Day is 'The right to seek safety'. #EndAnglophoneCrisis @RefugeesCmr @Refugees https://t.co/s2qWxCModl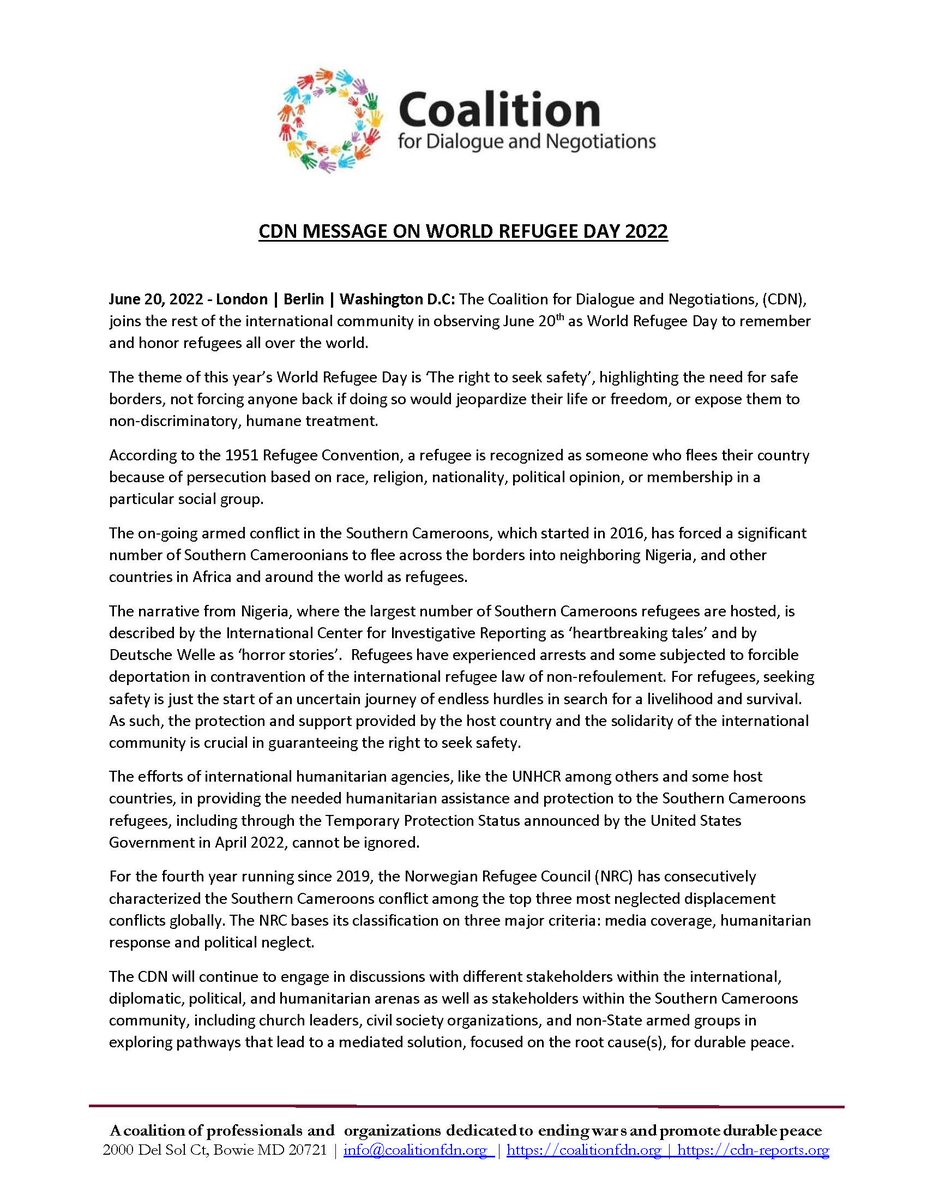 https://t.co/iuzNd2DybT
Exactly one month ago, on April 2nd, 2022, CDN joined the Sawyer Family, the people of Liberia, Africa & the world at large to lay to rest and say goodbye to Prof. Dr. Amos Sawyer, the former president of #Liberia.
#Cameroun
#endanglophonecrisis https://t.co/RiIunp17ve